At the Disney Princess Wikia community site we dedicated ourselves to being the number one fan resource and site for everything having to do with the various Disney Princesses. We cover them all from Cinderella to Belle to Pocohantas and more. We also provide information about the films and the various princes that also make up the Disney Universe.
Trending articles
Popular categories
View full main page
Welcome to the Disney Princess Wiki!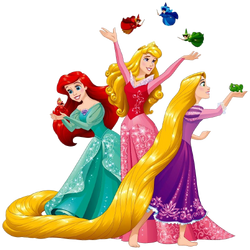 The wiki for everything on the Disney Princess franchise. Since November 2009, we've been chronicling the adventures and loves of Disney Princesses and their Princes. Of course, this means we also have articles about: you to help us keep the magic going. So dig in, click around, and have fun editing!
Error: Image is invalid or non-existent.
Latest Disney Princess Appearances
Affiliates
Find similar and related Wikis!

Check out all things Disney!

Got Fanon? Visit the Disney Princess Fanon Wiki!

Looking for non Disney-related Official and Fanon Princesses? Check out the Non Disney Princess Wiki!
Every community has rules.
But our list of 'em is short. Two minutes out of your day to read 'em. Promise.

Visit our Community Page and see how you can help! Apply for special User powers and see how you can be the overseeing supervisor of your favourite franchise's pages and files!