"It's all so magical." - Jasmine
Not to be confused with Jasmine (2019)
Jasmine is the deuteragonist of the three Aladdin feature films and the subsequent television series. Jasmine is the daughter of the Sultan of Agrabah, and thus, is a Princess. Jasmine is the sixth official Disney Princess.
Background
Appearance
Jasmine is a voluptuous young woman with medium skin and long, lustrous black hair, big brown eyes, and a distinct hourglass figure. She normally wears her black hair in a ponytail, held together by 2 light blue bands. She normally wears a light blue, cropped tube top revealing her midriff and her navel with sewn-in sleeves for her arms, allowing her figure to be shown, and matching pants along with blue shoes. For formal occasions, she has a purple outfit that covers more of her skin and a hair accessory. When Jafar takes control of Agrabah for a short while, he makes Jasmine wear a red outfit with several golden accessories, such as a snake bracelet and gold earrings. Jafar later creates a gold crown for Jasmine from her shackles when he decides to make her his queen.
When Mirage tricks her into using a fake beauty potion, she begins turning into a lamia-like monster. Happening in steps, her legs transform into a tail, then all but her head is transformed into a humanoid reptilian body (arms still existing) with poisonous quills on her tail and red eyes with yellow slits. Finally, her hair turns into a cobra hood with her ears missing and patterns inside it that resemble her earrings.
Personality
Jasmine is a rather multi-layered character; incredibly independent and strong in many ways. She isn't afraid to speak her mind, no matter who she's up against. Whether it be her father, Jafar, or some other villain corrupting Agrabah, Jasmine won't hesitate to stand up for what's right, mostly for the safety of others as opposed to herself. This aspect of her character is greatly explored in the television series, where it is shown Jasmine is very much ruler of Agrabah alongside her father, as opposed to the stereotypical princess that merely sits around on the sidelines. She is shown to take part in most of the political disputes and conversations, often gives her suggestions on how to make peace (which more often than not comes out successful) and is shown to have the same amount of respect her father earns. She is also very clever, shown when tricking Aladdin to reveal who he really was on the Magic Carpet ride.
Aside from this, Jasmine is extremely compassionate and caring. Towards her kingdom, her family, her friends, and especially Aladdin, whom she treats as a best friend, as well as a lover. Together, the two share a strong bond, always open to one another's tendencies and ideals, and always looking out for one another. She's also a heavy influence on the former street rat's life- often standing as his primary motivation in completing a new goal for the better.
As mentioned before, Jasmine cares a great deal about her kingdom, as has shown to sacrifice herself many times for the safety of her subjects. In Disney Princess Enchanted Tales: Follow Your Dreams, it's shown she has an outstanding desire to contribute to her kingdom, in ways that don't include flaunting her status as a princess.
However, Jasmine is not without her flaws. She can, at times, be too fussy and opinionated, as well as incredibly stubborn. She can also speak without thinking from time to time. Several times throughout the TV series (specifically in "Do the Rat Thing") she is shown to have a difficult time accepting when she's wrong. Especially to Aladdin, in an attempt to deflate his sometimes prominent ego. Even so, she realizes her mistakes in the long run and makes amends for whatever trouble she may cause, no matter the scale or circumstance.
She also loves children as she usually kisses them, helps them, fawns over them, and saves their lives.
A rather famous portion of Jasmine's personality is also her sassy and seductive ways. Being as opinionated and outspoken as she is, she's never afraid to give a sarcastic quip. She can also commonly be seen with a sultry expression, accompanied by seductive body language during her scenes with Aladdin throughout the franchise (often seducing him into doing things for her), and one particular scene in the original film when she was distracting Jafar.
Disney History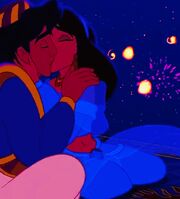 Jasmine is the soon-to-be 16-year-old daughter of the Sultan of Agrabah. By the law of the time, Jasmine must be married by a prince in three days before her birthday. The Sultan is angered and frustrated when she continues to reject the suitors and anger one of them when she lets Rajah attack him. She is unwilling to marry any of the princes her father suggests, as she wants to marry for love rather than for wealth and power, and would thus be treated as simply arm candy and as a man's property. She continues with the distress that she never has had any friends, save for Rajah, and that she hasn't even been outside the palace walls. Eventually, Jasmine runs away from home, in the disguise of a peasant, but having never been outside the palace before, she inadvertently gets into trouble when she gives an apple to a young boy without paying for it.
Before the merchant can punish her by amputating her hand, a street urchin named Aladdin quickly steps in and saves her by claiming that Jasmine is his mentally-ill sister. Jasmine plays along, pretending that she believes Abu to be the Sultan, and that a camel is her doctor. Aladdin leads Jasmine to his home, where they talk. Aladdin reveals his wish that he could be rich, while Jasmine wishes for freedom. They both come to realize they have a lot in common by feeling "trapped" in the life they were born into. Jasmine and Aladdin begin to develop romantic feelings for each other, but Aladdin is arrested by guards led by Razoul. Jasmine reveals herself to them and demands that they let Aladdin go, but Razoul explains that he is doing so on Jafar's orders.
Jasmine confronts Jafar and demands that they release Aladdin, but he tells her that Aladdin has already been executed; Jasmine is left distraught, starts crying and blames herself, realizing that she never learned his name. The Sultan soon learns of the matter, and chastises Jafar. Jasmine then points out that, even though she is forced to marry, she would be able to punish Jafar after becoming Queen - not knowing that Jafar was internally planning on making Jasmine his own queen.
After Aladdin's wish to become a prince is granted to him by the Genie, he visits Jasmine in the guise of 'Prince Ali Ababwa'. She initially believes him to be just another arrogant suitor, after hearing 'Prince Ali' speak to the Sultan about his intentions to "win Jasmine." After a rather disastrous meeting on Jasmine's balcony, Aladdin is able to convince Jasmine to go for a ride on his Magic Carpet. During the ride, Jasmine falls in love with the disguised Aladdin, but Jasmine soon sees through Aladdin's disguise, after noticing that Prince Ali had the same habits as the market boy she had met. Later, after the Magic Carpet takes the two to watch some fireworks where she tricks him into revealing the truth. She is angered at the lie, but Aladdin convinces her that he sometimes dressed up as a commoner to "escape the pressures of palace life," which she relates to. She is taken back to the palace and the two share a kiss.
When Jasmine returns home she appears happy and expresses that to her father. However, she is told by her father that she is to marry Jafar. Jasmine is shocked and attempts to tell the Sultan her decision to marry Prince Ali. When Jafar claims that the prince left, Aladdin suddenly appears, relating the news that Jafar had tried to kill him. When the Sultan agrees with Jafar that Aladdin is lying, Aladdin realizes that Jafar is hypnotizing the Sultan and breaks the spell by smashing his magic staff. Jafar is revealed as a traitor and forced to flee. The Sultan then notices Aladdin and Jasmine in each other's arms and realizes that Jasmine has chosen a suitor for her king.
Jasmine announces her decision to marry Aladdin, the next day; however, Jafar takes over Agrabah by stealing the lamp from Aladdin and wishing to be a sultan. He commands Jasmine and Sultan to bow to him, but she hastily refuses. Jasmine learns of Aladdin's true identity after Jafar uses his magic to forcefully change Aladdin back to a peasant.
After sending Aladdin to the ends of the Earth, Jafar makes Jasmine his personal slave. She is distressed in that Iago is torturing her father and begs Jafar to make him stop. He then offers her the chance to become his Queen, citing her beauty and creating a crown for her from her chains with a wave of his hand. She hotly refuses and splashes a cup of wine in his face. He is about to punch her in the face when he comes up with a more gentlemanly idea. He commands the Genie to grant his wish that Jasmine falls in love with him. After seeing that Aladdin has returned, Jasmine distracts Jafar by pretending that she is in love with him and seducing him, so that Aladdin can get the lamp. She throws him many compliments of everything: of his height, skin, beard and even his gapped teeth. When Aladdin's cover is about to be blown from a fruit bowl that fell during a scuffle between Abu and Iago, Jasmine becomes desperate and kisses Jafar to keep him distracted (much to the disgust of Aladdin, Abu, and Iago). This was a successful ruse, until Jafar sees Aladdin's reflection in Jasmine's crown, and attacks him. When Jasmine tries to grab the lamp, Jafar imprisons her in an hourglass, where she is almost suffocated by sand before Aladdin rescues her.
Aladdin ultimately manages to defeat Jafar by imprisoning him within his own lamp (after tricking Jafar into wishing he was an all-powerful genie without realizing the rules and regulations that come with such power), thus saving the kingdom and freeing Jasmine. Once peace was restored, Aladdin apologizes for his lies, though Jasmine ultimately forgives him, grieving over the fact that they can't be together now that the truth has been revealed as a result of the law. The Genie, however, comforts the couple and advises Aladdin uses his last wish to regain his princely status. The street rat declines this, however, keeping his promise to the Genie by using the final wish to set him free. Despite this, and realizing Aladdin's love for Jasmine daughter is pure, and believing he proved his worth by saving the kingdom, the Sultan decides to abolish the law, declaring the princess is free to marry whomever she deems worthy. With this newfound statement, Jasmine immediately chooses Aladdin, and a celebration is immediately held as the two proclaim their love and bid farewell to the Genie, who decides to take advantage of his freedom by going off to see the world.
In the first direct-to-video sequel, Jasmine begins to question her choice in Aladdin, wondering if he was trustworthy enough after he defends Iago, Jafar's former pet parrot who had terrorized her father. She quickly gets over these questions with Iago's help, when he reminds her of how much she loves Aladdin, and using reverse psychology and calling her bluff in the song "Forget About Love".
Jasmine apologizes to Iago soon after when he suggests Aladdin and the Sultan go for a Magic Carpet ride together (which is, in fact, a trap), and her kindness almost prompts Iago into a confession, but Jafar scares him into silence before Iago can say anything further.
She is later captured by Jafar, who magically impersonates her in an attempt to have Aladdin killed off. It seems to be primarily her disappointment and anger at Iago which finally prompts him to help free Genie. Jasmine finally accepts Iago as a friend after he helps defeat Jafar. At the end of the film, Jasmine goes with Aladdin to see the world.
Finally, in the third direct-to-video movie, she and Aladdin are finally about to wed, when their wedding is interrupted by the Forty Thieves. After learning what they were after, Aladdin finds out from the Oracle his father Cassim is still alive. Jasmine convinces him to seek out his father, and that their wedding can be delayed a little bit longer.
While he is away, Jasmine grows worried and Genie cheers her up by dressing her in bridal outfits (And comically posing as many iconic celebrities and movie characters, one of which Robin Williams himself played the role of). When Aladdin returns with Cassim, she and the Sultan take an immediate liking to him. However, he later tries to steal the Oracle, and is put in prison; Aladdin helps him escape but comes back to face his punishment. Jasmine and the Genie convince the Sultan that he helped his father out of love. At that moment, Iago (who was with Cassim) returns, telling them that Cassim has been captured by Sa'luk and the remaining Thieves.
Jasmine goes with Aladdin to rescue his father, and afterward, they return for their wedding, which Cassim attends from the shadows. They go for a ride on Magic Carpet, waving good-bye to the Merchant from the first film and Iago and Cassim as they ride off. The two then kiss passionately.
Jasmine aids Aladdin, Abu, Magic Carpet, Iago, and the Genie in their adventures, often proving herself to be an invaluable aid in their adventures and not just a damsel in distress. She also has several episodes (including "The Garden of Evil", "Forget Me Lots", "Do the Rat Thing", "The Secret of Dagger Rock" and "SandSwitch") in which her personality, skill, intelligence and loving heart are focused on. Her relationship with Aladdin develops during this series and culminates in their marriage in the third movie.
In the series, Jasmine is shown to have excellent fighting skills, possibly learned by adventuring with Aladdin. When scorned or threatened, Jasmine can become quite enraged at her offender, including Aladdin. In one episode she viciously attacked Abis Mal after learning she was used for an evil scheme of his. Of all the members of the group, Jasmine has made the most daring sacrifices often giving up her freedom to save her loved ones or even complete strangers, a good example would be in "The Ethereal" when she sacrificed herself to save a boy named Tanti. She once commented on this in the episode "Bad Mood Rising", telling Aladdin "I was raised a princess, Aladdin, and a princess knows, the needs of the people outweighs her own."
She also appears alongside Iago, Abu, and Magic Carpet in the Disney Princess Enchanted Tales: Follow Your Dreams, the "More than a Peacock Princess" segment. In the segment, Jasmine is tired of her life as a princess and wishes for more responsibility. After speaking with her father, Jasmine is given a job as an assistant teacher (which they call "Royal Assistant Educator") at the Royal Academy alongside her cousin Sharma. After Sharma runs out of the school in distress Jasmine decides to take on her class on her own. Though Jasmine is thrilled at first, she becomes frustrated with her unruly pupils. They do chaotic things such as throw books, chase Jasmine around with a snake, and draw on walls. She tries to use Rajah to scare the kids but failed, in fact, the kids just chased the two of them up a tree. Jasmine decides to give up but later that night Jasmine, is advised by her lady-in-waiting, Aneesa, to persevere and be patient, as then she will be able to do anything she wants and sets her mind to. The next day, the Sultan's prized but aggressive horse named Sahara is missing from the stables. Jasmine decides to go on a search for the horse in order to prevent her friend Hakeem, from getting fired. Using her intelligence she and Iago are able to find out Abu accidentally let Sahara go. She recruits Aneesa to stall the Sultan from going to see his horse.
After tracking down Sahara at an oasis in the desert she attempts to tame the horse from the first time and sings the song "I've got my eyes on you" in order to soothe him. After many hours she finally tames him, making her the only person to ever tame him beside her mother. Jasmine is able to return the horse to the palace. She later goes back to the school and the students are much more respectful because they are impressed that Jasmine tamed Sahara. She successfully teaches the class.
Other History
Jasmine makes a guest appearance in the episode "Two to Tangu". She appeared in her new design. Jasmine helps Sofia and Amber tame a wild flying Magic Carpet by teaching them not to be afraid and sings a song with them called "The Ride of Our Lives." She is the second Disney Princess to meet Sofia, the first being Cinderella.
Interestingly, while Jasmine sports her redesigned look, her old ponytail hairstyle that was sectioned into two (instead of the new regular-looking ponytail) is retained. This is more than likely because the previous hairstyle was easier to animate than the new free-flowing style.
Songs
Forget About Love
Out of Thin Air
More Than a Peacock Princess
I've Got My Eyes on You
Gallery
Trivia
Jasmine is loosely based on Princess Badroulbadour (Arabic بدر البدور, badru l-budūr, "full moon of full moons") featured in the story of "Aladdin and his Wonderful Lamp" from "One Thousand and One Nights". In the original fairy tale of Aladdin, the princess' name was Badroulbadour.
She is the first princess who is not from a European land.
She was the first princess who married a man who was not a prince of birth.
She is, so far, the only princess who was not more important than her romantic couple in her movie.
She is, together with Ariel, the princess who has the most number of appearances at Disney media, seeing she appeared at four movies and one TV series, without counting she made cameos at the TV series Hercules, House of Mouse and Sofia the First.
She is also the first princess who is from the Middle East, such as Saudi Arabia.
She is the second princess to have her own television series, the first being Ariel.
She is also the first princess who is from the Hellenistic Era (Ancient Greece) as it is confirmed in the Hercules crossover with Aladdin.
She is one of the two princesses to have her singing voice done by Lea Salonga. The other being Mulan.