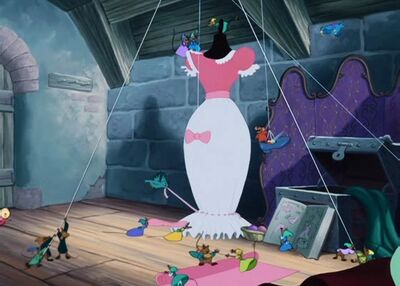 The Working Song
is a song sung by
Cinderella
's mouse and bird friends.
Lyrics
mouse and bird friends: cinderelly, cinderelly, night and day, its cinderelly
make the fire, fix-a breakfast, wash the dishes, do the mopping
and the sweeping and the dusting, they always keep her hopping
she go around in cicles, till she's very very dizzy
stil, they holler keep a busy cinderelly
yeah, keep her busy
you know what? cinderelly not go to the ball
what? not go? what did you say?
you'll see they'll fix her
work work work, she'll never get her dress done
poor cinderelly
hey we can di it
we can do it we can do it we can help a cinderelly
we can make the dress so pretty there's nothing to it really
we'll tie a shash around it put a ribbon throught it
and dancing at the ball, she'll be more beautiful than all
in the lovely dress we'll make for cinderelly
hurry hurry hurry hurry gonna help a cinderelly
got no time to dilly dally we've got to get a going
i'll cut it with the scissors and i can do the sewing
leave the sewing to the women you go get some trimming
and we'll make a lovely dress for cinderelly wooo!!!
we'll make a lovely dress for cinderelly
a dream is a wish your heart makes when youre fast asleep
in dreams you will lose your heartacheswhatever you wish for you keep oh
a dream is a wish your heart makes
no matter how your heart is grieving
if you keep on believing the dream that you wish will come true
whatever you wish for you keep
if you keep on believing the dream that you wish will come true
Video